Is Green the new Grey? Green Interior Ideas to Style Your Home.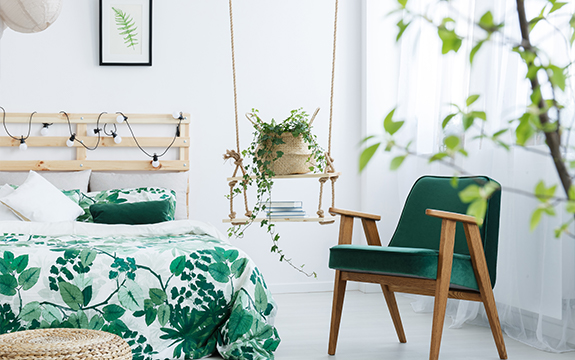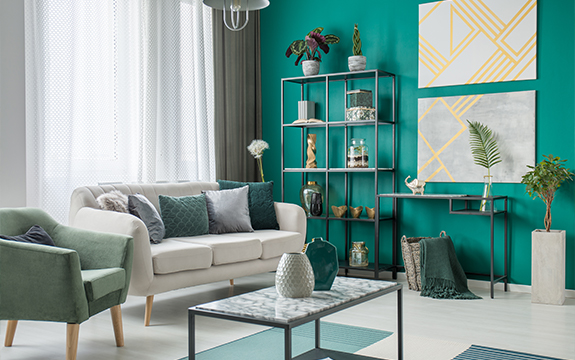 One of the trends we have seen every year without fail for the last eight or so years is grey. Grey tones work well with blue, yellow, orange…but each year grey has been the leading colour of choice for our homes including  flooring, wall coverings and soft furnishings. However, there seems to be a new colour in town – green!
Love it or hate it, it's one of the most calming colours for your home. The most popular shade of green are the deep autumnal tones rather than lime or pastel shades.
Here are some ideas for how to introduce green tones into your home.
Paint
Dulux's s 2019 colour forecast includes a Plasticine paint shade as part of their "Repair" trend range. The repair range focuses on optimism and peace which heal our rifts with nature.
Print
From quirky geometric shapes to pretty polka dot, patterned wallpapers are making a comeback and it even has its own name – Maximalism. And right now homeowners can't get enough of botanical prints, which offer a unique take on the inclusion of green within your home. If you don't want to take the plunge on such a permanent fixture, why not consider one accent wall or try scattering some printed cushions instead?
Seating
A few years ago you may have gasped at the sight of a random green chair. However a green armchair or sofa is the absolute perfect statement piece to add a splash of colour to your living room.
Plants
Bring the outside in and introduce plants and flowers into your home. Plants can help to soften a room and create a more natural, homely feel and have been proven to reduce stress, improve productivity and improve your mood. They are also said to have significant scientific benefits as they keep air temperatures down which reduces airborne dust levels.
Soft furnishings
Dark green goes with most hues so introduce green into your home through throws, blankets, cushions, rugs and curtains. This will enable you to see how the colour works with your decor and they can be easily changed if you decide to stick to the more neutral tones.