Zero-carbon COP26 House opens its doors to the public
— Public invited to Beyond Zero Homes building to see how a zero carbon, circular design can be achieved with materials and skills readily available today —
COP26 House, which demonstrates how beautiful, affordable homes can help meet global climate change ambitions, will open its doors to the public for two weeks only from Monday, 1 November.
Built by Glasgow-based regeneration specialists Urban Union for the UN Climate Change Conference, the zero-carbon timber-frame building was developed by Beyond Zero Homes. Created and led by Peter Smith of Roderick James Architects, Beyond Zero Homes is a collaborative group of over 20 organisations from across the home building sector who want to show the world how affordable and desirable homes can be constructed with minimal impact on the environment, using standard materials and skills available today.
As well as having a reduced reliance on concrete and steel, the COP26 House has been built mainly using locally-sourced home-grown timber provided by the BSW Group, the UK's largest integrated forestry business, and natural materials provided by the different organisations that make up Beyond Zero Homes.
It has been designed to store more carbon than is produced during its construction and will only require heating in the coldest times of the year due to the high levels of insulation. Heating, when required, will be provided by infra-red panels which heat objects and people directly, rather than heating the air. This low-cost electric solution is also almost entirely recyclable at the end of its lifecycle.
Unlike the materials used in standard homes today which are either incinerated or sent to landfill at the end of their life, the COP26 House has been designed so that it can be completely dismantled and recycled. This will be demonstrated after COP26 when the house will be deconstructed and rebuilt as part of a development of affordable homes near Aviemore.
During COP26, the house will be located on the Broomielaw, just a short walk from the Scottish Event Campus. As well as hosting private events and tours for school groups, COP26 House will be open to the public at various points throughout the two-week period. More information can be found on the Sustainable Glasgow Landing website.
Peter Smith, Roderick James Architects, said: "It is vital that the houses we are building now are truly sustainable, being low carbon in construction and use. But with the COP26 house, I wanted to demonstrate that truly sustainable, ecologically responsible buildings can also be beautiful, comfortable to live in and low cost to build using locally-sourced materials."
Pupils from a number of primary schools in Glasgow and Edinburgh have been invited for guided tours of COP26 House hosted by Urban Union. As well as learning about the materials and technologies used in construction, the school children will have the opportunity to enter a competition to design their dream home using recycled materials. Entries will be judged by representatives from Beyond Zero Homes.
Neil McKay, Managing Director of Urban Union which is part of the Robertson Group, said: "The construction industry has a central role to play in helping to reduce the world's carbon emissions and the COP26 House demonstrates that many of the solutions needed to fight climate change already exist, we just need to put them into practice.
"Everyone wants a comfortable home and by building the COP26 House we've shown they can have that while protecting the environment at the same time. Together with our Beyond Zero Homes partners, we want to welcome as many people as possible to the house so they can see this for themselves. And school visits will play a part in hopefully inspiring the next generation of architects and construction workers needed to help our industry achieve its sustainability ambitions."
Tony Hackney, CEO, from BSW Group, the UK's largest integrated forestry business which provided home-grown UK timber for the build, said: "The COP26 House is an important milestone in the move towards mainstream use of home-grown timber in the housebuilding sector. This will reduce transport miles and carbon emissions while supporting local sawmillers and growers. The UK timber sector is worth over £10 billion to the economy, providing thousands of jobs across the country in forestry, sawmills, high-tech manufacturers, merchants, and housebuilding."
The COP26 house is a one-bedroom unit with mezzanine studio, with an internal floor area of 70m2. The estimated guide price to build a home like this is between £1,800 per square metre for self-build and up to £2,500 per square metre, dependent on size, location, builder, and final finish specification.
The members of Beyond Zero Homes who worked together to build COP26 House include Roderick James Architects, Home Grown Homes, BSW, Robertson Group, Urban Union, MEDITE SMARTPLY, NorDan, National Timber Group, STEICO, Herschel Infrared, Fakro, Paul Heat Recovery, RothoBlaas, Ultimate Insulation, Ecomerchant, Circular Ecology, David Narro Associates, Roddy Clarke, IES, Radiator Digital, Orluna, Rainclear, Glenalmond Timber and Scottish Forestry.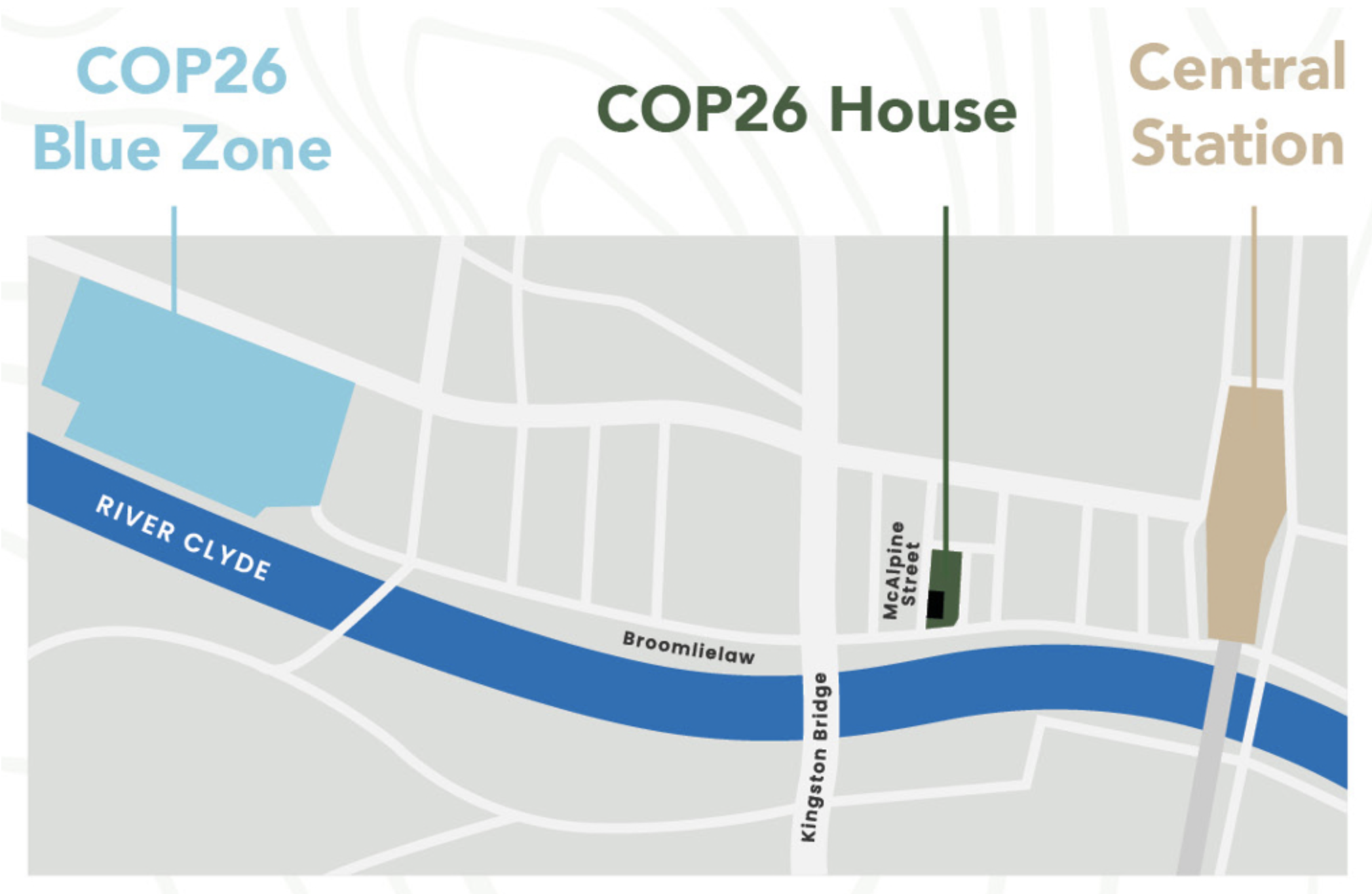 Find out more about COP26 House.