Customer highlight: showing the potential of our new build apartments
With only a few apartments now remaining within our Pollokshaws Living (Glasgow Southside) and Pennywell Living(Edinburgh/ Leith) developments it seemed the right time to highlight the potential of our new builds, with the help of Laurieston Living homeowner laurieston.life.
Having now recently sold their current two bedroom apartment, upgrading to one of our new townhouse options at Laurieston Living, they are the perfect example of ways in which a blank canvas can be turned in to your dream home. As the following images will show.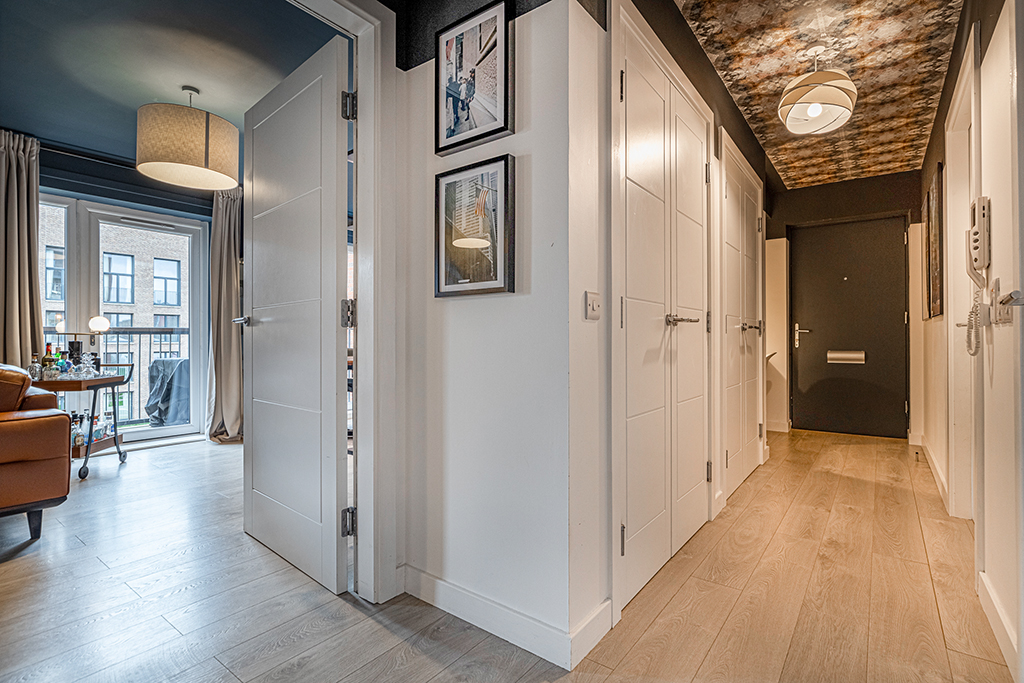 From new first time buyer to interior expert
This homeowner moved in to their two bedroom apartment as a first time buyer in 2020, opting not to choose from our range of pre-fitted flooring prior to moving in.
Walls at the time were freshly plastered and white throughout and since then they have brought in a dark palette of blues and blacks, even utilising ceiling areas to make the property their own. As well as installing light oak flooring and grey carpets between the hallway/ kitchen/ dining area and bedrooms.
This combined with carefully selected furniture and accessories has made for a unique and contemporary living space.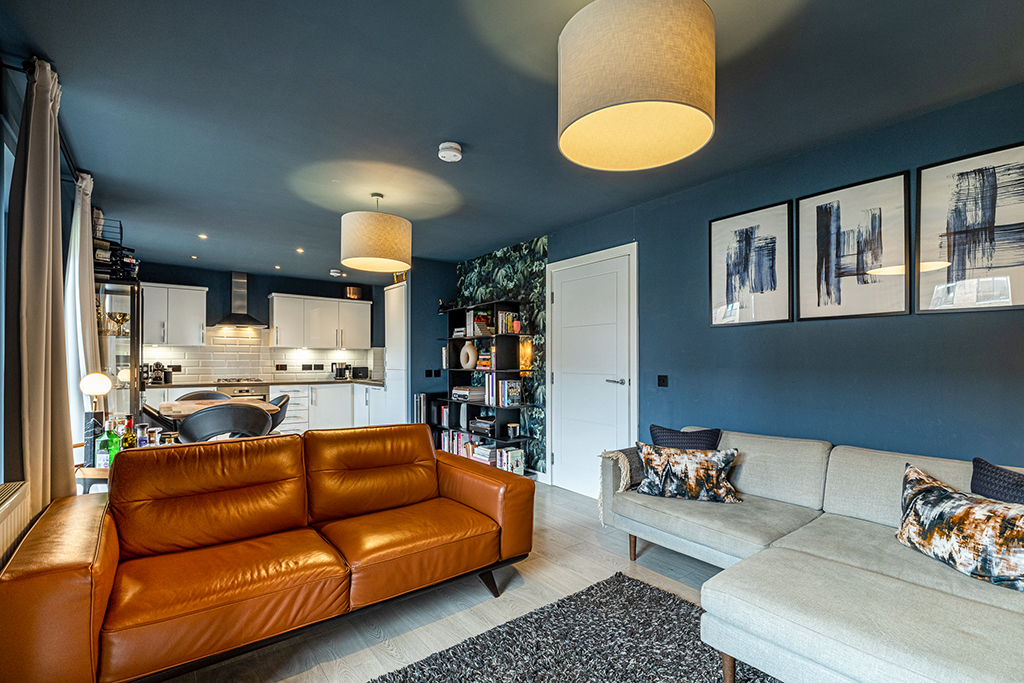 Ample natural lighting sources, combined with energy efficient lighting
All of which is further complemented by the natural lighting source provided by our full height windows, which feature throughout the open plan living space and bedroom areas.
As well as this, energy efficient lighting is installed throughout our apartments, meaning you are not only saving on your energy bills but contributing to a more sustainable future.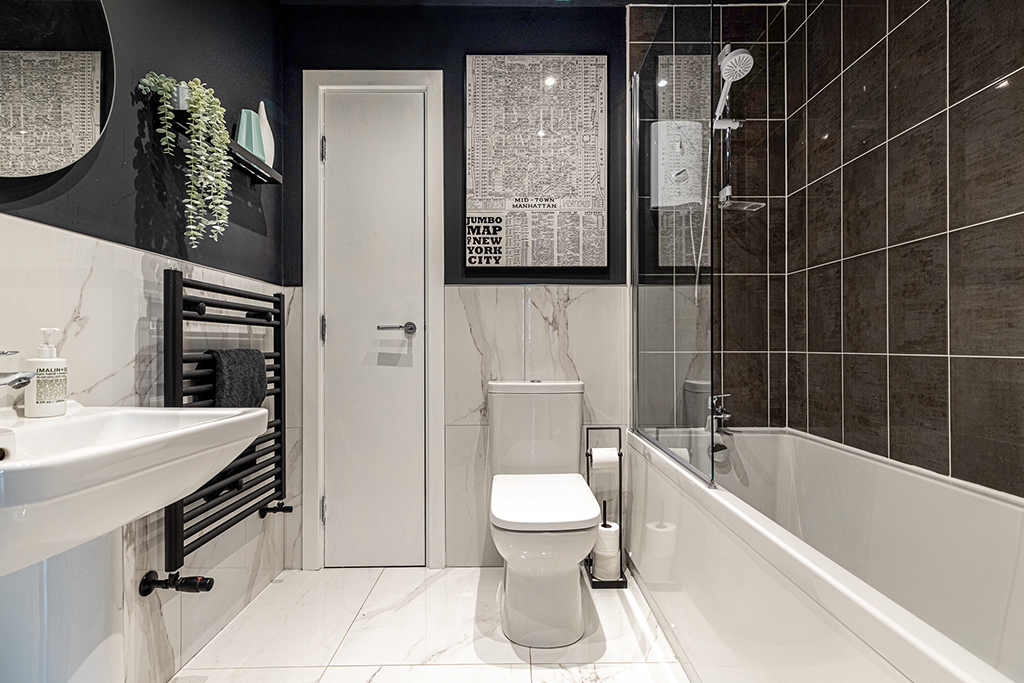 New bathrooms with shower over bath facilities
Moving on to our bathrooms, all apartments are supplied part tiled as standard with shower over bath facilities provided in all. laurieston.life choose to expand on this when moved in by painting the walls and also adding additional Carrara Marble tiles to complement the Slate Grey already in place.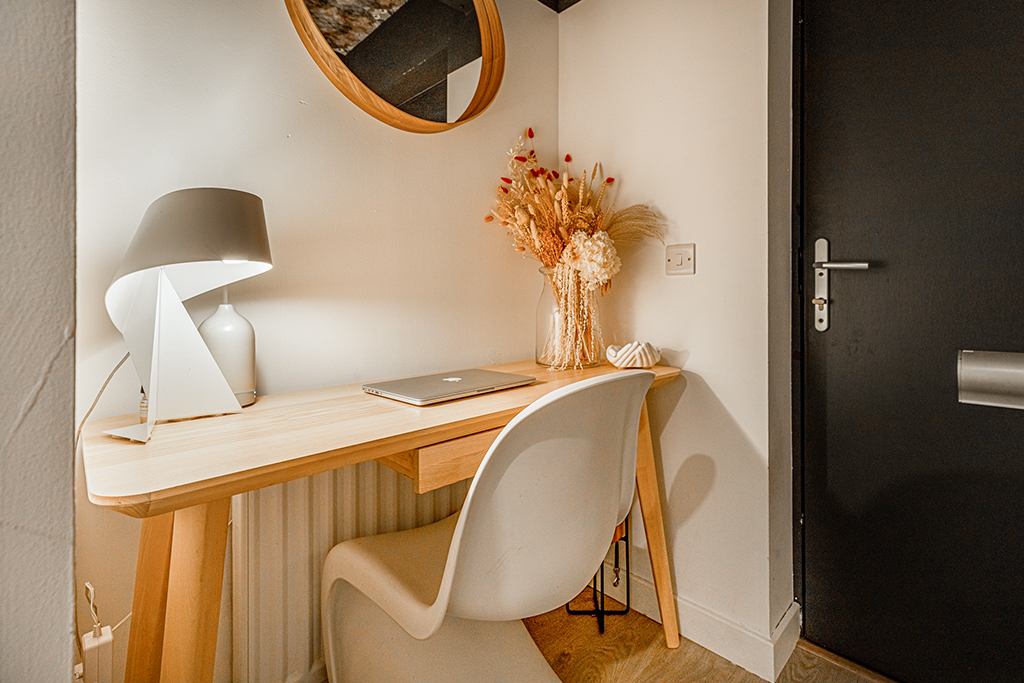 Spacious and versatile living arrangements
However the most commendable feature by the homeowner is their use of space throughout the home, which cannot go unnoticed. Clever furniture arrangements have created a flow throughout the apartment, as well as resourceful use of corner areas to facilitate home working.
All of this combined makes for a unique new home for the new owner and highlights the true potential of what a new build home can become if you have the vision and creativity.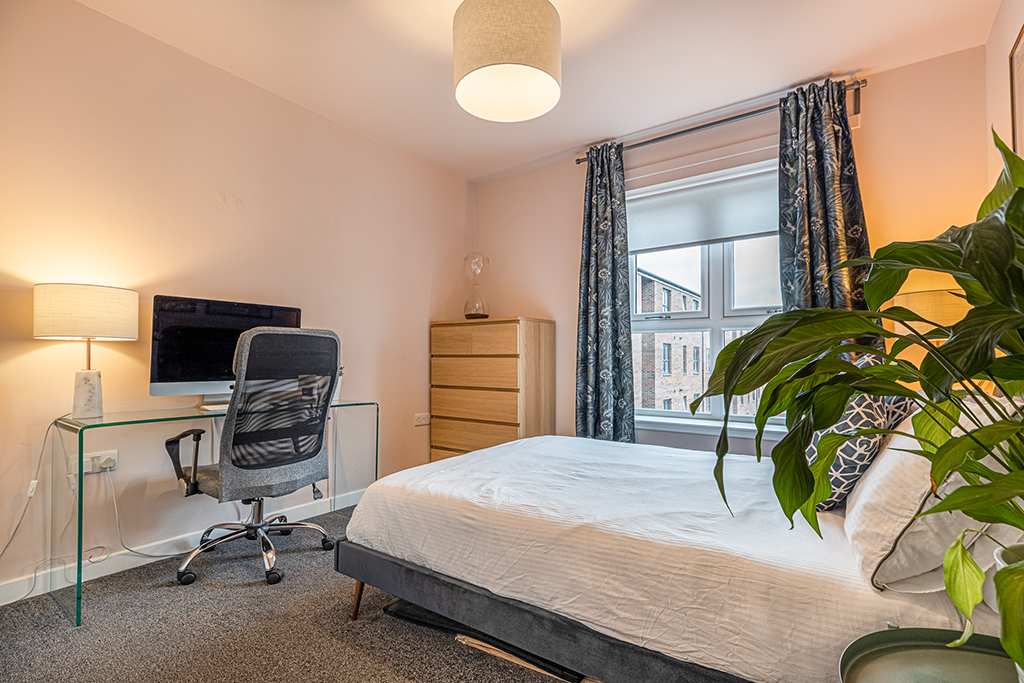 Interested in purchasing a new build Urban Union apartment?
If you can now see the potential of a new build Urban Union apartment and are keen to make a viewing appointment, please get in touch with our Sales team directly.
Pollokshaws Living has both one and two bedroom apartments available, meanwhile one bedroom apartment remains at Pennywell Living – we suggest getting in touch as soon as possible.
Pollokshaws Living: 07498 057112 or pollokshawsliving@urbanunionltd.co.uk
Pennywell Living: 07940 992182 or pennywellliving@urbanunionltd.co.uk