We are delighted to have handed over our first 8 properties at Pollokshaws Living.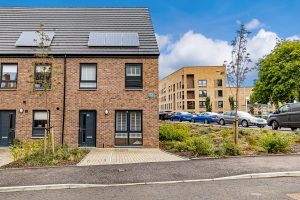 The handovers mark a significant milestone for us at Urban Union – and our new residents.
The £25m project is the first development we have fully delivered and where all homes offered are for private sale. The site at Pollokshaws forms part of the wider Transforming Communities: Glasgow programme that aims to regenerate eight key neighbourhoods across the city.
Pollokshaws Living is set to complete in 2023 and will offer a variety of different house types suitable to first time buyers and growing families alike. In addition to one and two bedroom apartments, the new development will include two, three, four and five bedroom terraced homes.
Speaking of the achievement, Neil McKay, managing director, Urban Union said: "The first handover at Pollokshaws Living is undoubtedly a huge occasion for Urban Union as it is our very first self-delivered development. But more than that, we are delighted to welcome our first buyers to their new homes, which is a fundamental step in the continued regeneration of Pollokshaws and validation of our selection as private sector partner for the Transformation Regeneration Area.
"Having previously worked with local housing associations to deliver hundreds of homes across Glasgow, Edinburgh and Perth, this achievement represents a pivotal phase in Urban Union's journey. We will continue to improve and expand the delivery of our regeneration projects, helping to meet the ever-growing demand for high quality, affordable homes."
Councillor Kenny McLean, Chair of Transforming Communities: Glasgow, said: "It is pleasing to see people moving into these homes in Pollokshaws, marking a new stage in the lives of the new residents and in the regeneration of the area. The partnership has worked well to deliver these new homes, and we can look forward to more new and high-quality housing coming to Pollokshaws in the near future."
One of the homeowners to receive their new property at Pollokshaws Living was Soraya Din.
Mrs Din said: "I'm moving into this home because it suits all of my needs as an active older person. I have been delighted with the support from Urban Union throughout the buying process, from my plot selection all the way through to receiving my keys. Urban Union have kept me updated throughout the whole process. I would definitely recommend Urban Union as your first choice home builder."
Discover more: https://www.urbanunionltd.co.uk/pollokshaws-living/