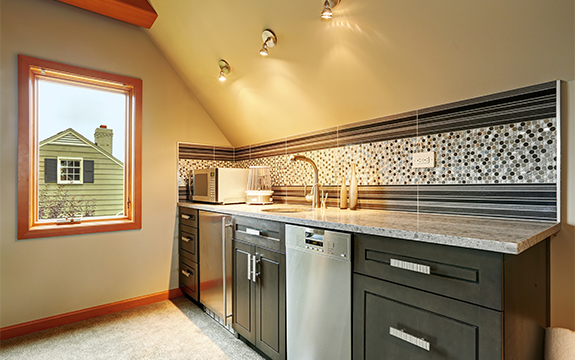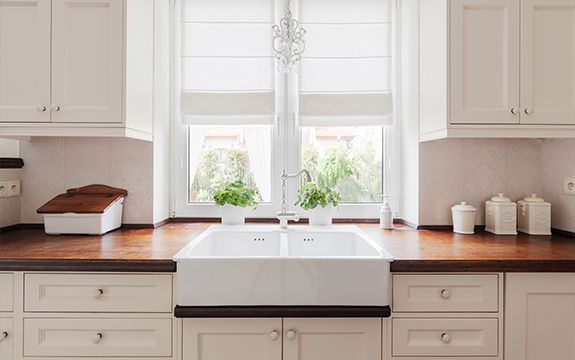 Kitchens work hard in homes and so can become worn and weathered. As the heart of the home, and often the room that sells a house, it's good to keep on top of these spaces.  However, replacing with a brand new kitchen every few years won't be workable for many people's budgets! Here are a few ideas that could help update elements of your kitchen, giving the effect of a shiny new space you'll want to cook, eat and relax in all the time.
Spruce up your splashback
These areas used every day can get grimy, discoloured and worn out, making your kitchen look more outdated. Think about replacing splashback areas by retiling – considering different shapes, styles and colour schemes you could incorporate with tiles. The fresh tiles and grouting will instantly make your kitchen look cleaner and updated, whilst patterned tiles can add a decorative feature. For a personalised look, choose a mix of colours or play around with how you lay subway tiles, either vertically or on their side to create a herringbone-style effect. Alternatively replace splashbacks with new stainless steel, for an ultra-modern effect, or a coloured acrylic backing can add a really vivid colour pop.
Store with shelves
Cupboards can be cumbersome and too heavy, especially for smaller kitchen spaces. Get rid of one or two and instead replace with floating shelves, making more of a decorate statement with your storage whilst keeping everything close to hand. It's worth considering what you would want to display and store on shelves first before putting them up to help decide the height and handiness of these items – a colourful glass set, mason jars with staple foods and spices or a mini herb garden are great things to have out on display. Consider also the material of the shelves and whether you want to tie-in with your cabinets or add contrast with wood, metal or glass shelving.
Replace worktops and sinks
A bigger job but one that can cost just a fraction of what an entirely new kitchen would. Again these areas are used all the time so can become quite tired, giving an instant 'new kitchen' feel when replaced. There's so much choice out there – from marble, granite and solid wood at the high-end and laminate effect and composite surfaces that are of increasing quality. Remember areas around cookers and sinks will take the most wear, so using a mix of materials might be wise as well as adding variety. A new kitchen sink can also give any tired kitchen a boost, whether it's a vintage-style Belfast sink or a shiny new stainless steel, and with a range of fancy taps on offer now you can again mix up materials and finishes whilst adding functionality.
Give a colour boost
There's paint for all surfaces now and all shades under the sun, so think how it can be used in your kitchen and you could give a dramatic transformation without blowing the budget. If your cabinets are in good condition, a paint job can freshen-up and give an updated feel – pastel shades are great and there is also a newer trend for darker kitchens too, so think about what effect you are looking to create. Of course, colour can be introduced on walls and tie-in with coloured tiles or with a more subtle colour pop here and there with toned-in appliances and accessories such as kettles, toasters and even fridges.
Declutter
Could it be your drab-looking kitchen is just too cluttered? A good, ruthless sorting out, getting rid of items you don't regularly use, can free up storage space and make your kitchen look much tidier. A deep clean whilst you're at it will also make surfaces, cupboards and backsplashes shine again. There are lots of clever storage solutions, from hanging racks, shelving and clever pan lid organisers you can fit onto cupboard doors – a must-have for small kitchens especially. Rearrange items and storage so your kitchen works as functionally as possible and you'll want to use it more.